For the
three of you
who still read this blog, I figured it was about time that I post some vacation pictures.
Per a friend's recommendation, we looked into touring
Philly by Duck
. Aparently tour buses based on the World War II
DUKWs
are appearing in several cities promising a unique site-seeing tour experience by land and by water. It seemed like a fun idea that the kids would really enjoy, so we decided to try it.
Captain Tony was a smooth operator who would make a fabulous disc jockey if he ever decided to quit the ducks. Our tour experience was filled with fabulous music, corny jokes, and interesting tidbits about the City of Brotherly Love. (Did you know that Ben Franklin has a cousin named Aretha?) The kids were all excited when they heard the Rocky theme song. Call me crazy, but while we choose not to watch High School Musical, watching Rocky Balboa while on vacation with Grandpa Yogi is perfectly acceptable. (I don't claim to make sense people.)
Of course,
photos taken from a tour bus do not yield the best pictures no matter how fancy-pants your camera is
. I'm still not quite sure what possessed me to take this picture, and I still don't know whether it's cobblestone or not cobblestone.
Where do all the hippies meet? South Street, South Street
Interesting place. Fortunately the kids missed C*ndom Nation and we didn't have to have that discussion but our Captain was sure to point out the home of Larry of the Three Stooges.

I've learned that my retention level for such things as sight-seeing tours is not very high. I must have thought these places were significant when I took pictures of them, but I couldn't tell you now what they are. Anyone?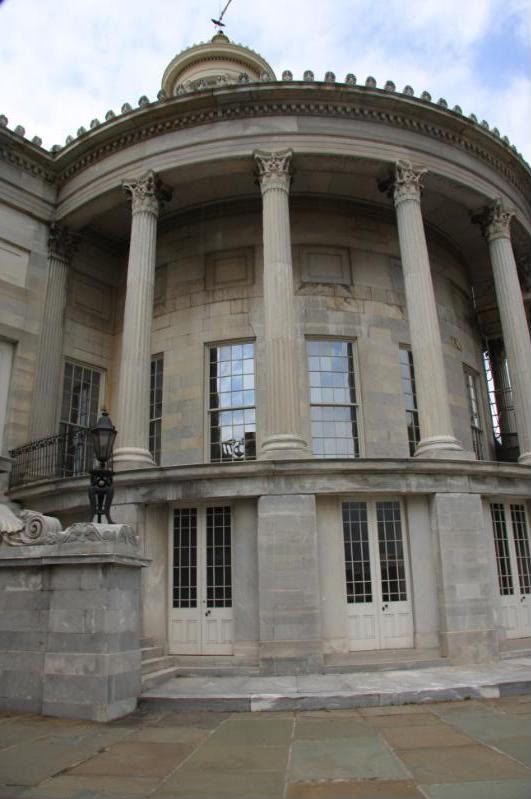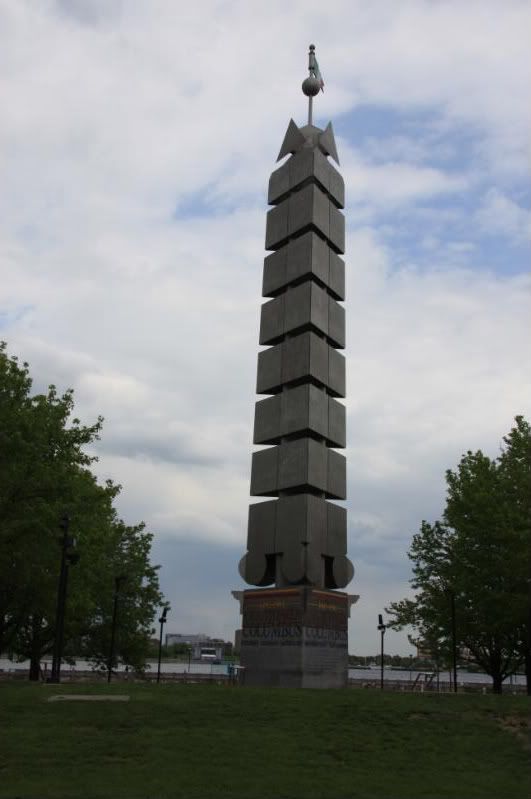 Now this, I know. It's an
Irish Memorial
, very cool. On one side they're in Ireland. On the other, they're here in America. Once again, there was something significant about the stones, but I can't remember that now.
This door is where Abigail Adams once lived.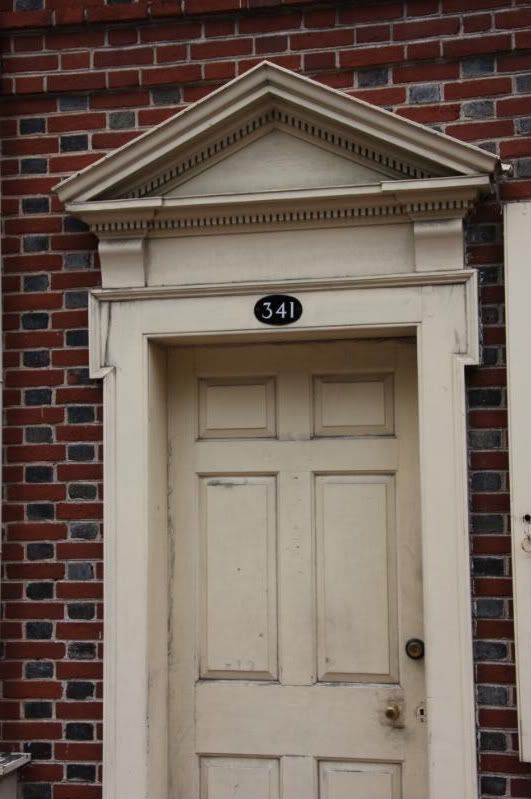 This is the Korean War Memorial.
2dd8 had the honor of passing out the quackers. They used to pass them out at the beginning of the tour, but the Philly residents complained about the noise so much that they now wait until the tour is almost to the Delaware River to pass them out to the tourists. So much for brotherly love! I have no idea why anyone in their right mind would object to the incessant sound of quacking ducks passing by on the street all day long.
These red hat ladies were fabulous! The one on the left is a homeschool grandma. She was so excited that we were homeschoolers and believers too. At least one other woman is a homeschool grandma too. Their encouragement was wonderful!
And on to the beautiful Delaware River where we see a boat that has been around for a long time and was in some movie with some famous people that I can't remember. (Perhaps I should have taken some Ginseng or something before I started this post.)
For those of you who have managed to get to this point, congratulations. Now is when the fun really begins. I mean really,
I've waited for years to be able to go to Philadelphia so that I could ride on an all-terrain vehicle, with a quacker in my mouth, doing The Chicken Dance.
Or wait, maybe it was
"Sing YMCA on a bus full of
women with red hats and purple dresses
while touring historic Philadelphia"
that was on my list of things to do before I die. Yes, that must have been it. Well, at least I can check that off now!
Truly, I just wanted to see Spounge Bob Square Pants. My life is now complete and I can Rest In Peace. Ahem.
Thanks for touring Philly by Duck with me. I can't say that I'd recommend it if you only have half a day to tour one of the most historically significant cities in our nation, but I can say that we had a quack-tacular time. Lots of fun; lots of laughs! While the details of what we saw have already faded, the memory of this twaddle-filled experience is one that we'll be reminiscing about for years to come.


Grace and Peace,
Angel