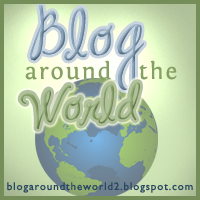 I've been delinquent in announcing this fabulous new blog. It's pathetic really since one of my very own real life friends is the creator. Whilst all her imaginary friends and complete strangers excitedly displayed the new buttons, I have been remiss. My sincere apologies, Debbie!

I am now calling on all my readers to help me redeem myself. Go HERE, check out the fun and get your blog added to your state's category. This really is a fantastic idea for a blog! Bloggity goodness at its best! Oh and Indiana, we really need to step it up! So far I am the one and only blog listed under Indiana and I'M LONELY!!! I know I have quite a few Indiana bloggers reading, and I would be so honored if you would join me in representing our fair state. And if any of you other non-Indiana bloggers decide to take pity on us, you are more than welcome to move to the Crossroads of America yourself. There are several houses for sale in my own neighborhood. Now wouldn't that be fun?!?
P.S. Okay I was wrong. There are 4 Indiana bloggers. I guess that (1) next in IN didn't mean one; apparently it means FOUR. But still, four is not enough to cure my loneliness! So go already!